WELCOME MEDICAL & SKINCARE PROFESSIONALS
Hexapeptide 389 for Forehead,
™ is a Needle-Free replacement for botox. 
HOW TO USE BETTER THAN BOTOX™
Always apply to bare skin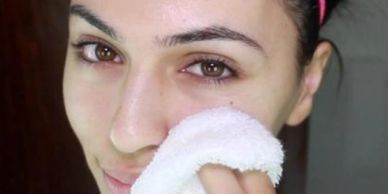 We recommend applying after your morning bath or shower. It should be under all makeup while your skin is clean. Works best on eyes and forehead
Apply a tiny dot to target area




The goal is to start with the absolute minimum dosage as directed by your skin care professional at point of purchase. This is typically one dot as indicated above. The dot amount is clearly indicated on every dispenser. 
Stay expressionless for 5 minutes




Even though we know you'll be happy to see the results, now is not the time to smile. Read a boring book on biochemistry like we do :>)
A few trys' to find the exact amount for your lower eye




You should be applying our products daily at the same time everyday. As you begin to see results you can gradually increase each day until maximum skin absorbtion is achieved. In any case that should never be more than 4 dots per eye. Once applied it is very important that you do not reapply more until at least 24 hours later. Adding more product after you just treated simply adds more product on top of more product.
This picture is greatly exaggerated in order to give an idea of what a crazy too much overdose would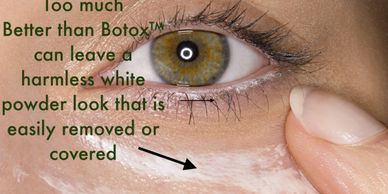 If you've gone a little overboard with
Better than Botox™ the best solution is to leave it on your skin and apply a foundation with your makeup routine.. If this is not an option and you want to remove the process can be quite difficult because the same biochemistry that keeps our products on also make it stay on. The official removal agent with limited success is 70% alcohol and witch hazel. 
Better than Botox™ must directly contact your skin to let our patented Nanotransport technology work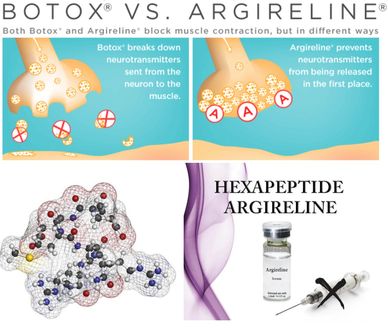 Only Better than Botox™ uses our own patented Ona Botulinum Toxin A SNAP 25 protein derivatives Hexapeptide 389 for long lasting wrinkle abatement as a neurotransmitter block for 2 to 6 long months of treatment, just like injectables. If the anti wrinkle products you are using including Ona Botulinum Toxin A (Botox™) is not getting to the synaptic cleft area, it's never going to do much. That's real science for real results.
Better Than Botox Professional Edition - Quantum Facial
The Quantum Facial "Professional Edition" is the next generation of our massively popular flagship eye serum , Better Than Botox™. It's by far the most powerful formulation we can make and plenty of it at 12 ml. in a very high quality no clog dispensing system. This "Professional Edition" is now available to the public through our professionally trained reps only. There's enough for at least 30 daily treatments and then some for those that want to sure solid, contiguous use without risk of running out before the 30 day maximum treatment period. Please do not increase your daily ideal daily dose as this will lead to excessive buildup that your dermis simply cannot absorb.
Hexapeptide 389 for Forehead,
It's here. The worlds first "biologic" (under the skin neurotransmitter block) wrinkle treatment for forehead, procerus and Philtrum (upper lip areas optionally available from your skin care professional) . We are bringing this out in a "10 day, see a slight improvement low cost introductory price". Sounds great but lets' be very clear, if you can't get the active  biologics wrinkle treatment under the skin where the neurotransmitters work, not even Botox™ will work. You need to deliver the drug where it's works. We are the only company that uses safe,advanced NanoTransport to deliver our wrinkle treatment in a medically relevant way. The results along with hours of testimonials speak directly to this. Don't take our word for it though, ask your non commercial sponsored dermatologist if any wrinkle treatment can work on top of the skin. The answer is negligible at best.
Copeptide 689
Is the worlds first 2 part skin repair system. Mixed just prior to use this product contains 5 well known dermatologist approved ingredients Super Oxide Dimutase, Copper Peptide 689, Hexapeptide 389, Sodium Hyaluronate, Avena Sativabeta-Glucan
The thermostabilized version of Copeptide 689 is produced by lyophilizing (freeze-drying) the active biologics in individual vials to form a stabilized powder. This removes water and other components from the material, which would otherwise destabilize the product. Instead, by using a proprietary process, the superior sterile combination remains intact.
The solid blue powder, lyophilized material can then be returned to a liquid form immediately before use by simply adding the Part 1 water and mixing before application. Because the sterile Part 1 liquid is very stable, this results in an extremely convenient product with unmatched efficacy that can be stored for extended periods at room temperature. Superior efficacy, ease of storage and ease of use are key attributes for Copeptide 689 .This product will demonstrate maximum efficacy after 4 weeks of continuous treatment. Introductory pricing includes a full 5 pairs of treatment vials for a maximum 5 X 6 day 30 day treatment. This product should be kept in a cool place before mix and kept in the refrigerator immediately after the first treatment mix. As with all our products we offer a full no condition guarantee of at least meeting and exceeding all expectations.
Our unique formula
neuromodulators to stop chemical messages at the synaptic cleft) gives you the results of Botox without the needles.
Better Than Botox
™ is scientifically proven to reduce wrinkles and make your skin look young and beautiful.
With Better Than Botox
™ gorgeous, wrinkle-free skin has never been easier to get
30 Day Supply. Apply once a day for 30 days. Next Treatment after 2-3 months
Disclaimer:

Better than Botox™ is not intended to diagnose, treat, cure or prevent any disease. The information does not constitute medical advice and it should not be relied on as such. Consult with your Dr. before modifying your regular medical regime. Better than Botox™ is not affiliated in any way with Botox™ or it's parent co